M19 creep their way to the top!
In similar fashion to the GLL Season 2 Grand Finals, M19 climb up the leaderboard unnoticed ending Week 5 in 1st place! Totalling 23 kills and 1278 points total, they managed to slip their way past everyone with not a single win to their name this week, killing their foes on the way. Behind M19 is Huge Potential with just 44 points less than 1st place at 1234 total points, WINside are right behind them at 1162 points and Swift bringing up the rear in 4th at 1100 points.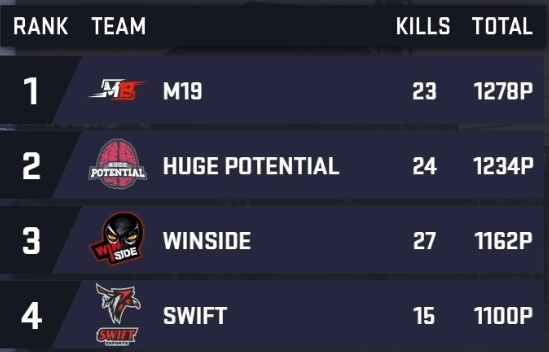 The 1st Chicken Dinner of the day went to Quantum Bellator Fire who had 18 kills and made some pretty impressive plays.

.@quantumbellator find Swift in a bit of an awkward spot#GLL pic.twitter.com/vcJq9o3K7J

— GLL 🎃 (@GlobalLoot) 17 October 2018
Here they find Swift posturing themselves under a bridge, P1NN pushes and takes down one while his teammate Bestoloch flanks from the other side. It almost ends badly for P1NN when Swift member Levanta swims through the water in true Navy Seal form to come up behind him.
Na'Vi has the crowd screaming their name again
Season 1 Grand Champions Natus Vincere have been having a rough season when it comes to placements, Week 5 was the week they showed the world they are still the Na'Vi they remember with a Chicken Dinner to call their own in Game 2 taking home 12 kills with them!

The 2nd Chicken Dinner🍗of Week 5 in the CIS & Turkey region goes to @natusvincere with 12 kills after Sadovik takes on 2 of Gachiba$$ Gaming

What an intense ending!#GLL pic.twitter.com/cgqpzf1LuV

— GLL 🎃 (@GlobalLoot) 17 October 2018
In the lower portion of the Alpha Division in CIS & Turkey Team Spirit finish the Week in 16th place with only 6 kills to their name moving them back down to Bravo in the 6th and final week. Joining Team Spirit in the lower CIS & Turkey Division, Bravo is Tornado Energy Storm, Russian Gangsters and Griffins.
In Bravo Division Kit-Kat are leading the way in 1st place moving them back into the top CIS & Turkey Division, Alpha grabbing themselves 2 Chicken Dinners and 32 kills total! Joining them in Alpha Division for the 6th and final week of GLL Season 3 is Random Friends, Give Me Your Money and Carpe Diem.
---
On the 1st of November, we are back with the sixth week of GLL Season 3 starting at 18:00 MSK for CIS & Turkey followed by Europe at 21:30 MSK, lastly ending with Americas at 02:00 MSK.
Published 2018-10-18