Team Liquid rip the crown from Loot Goblins head in Week 5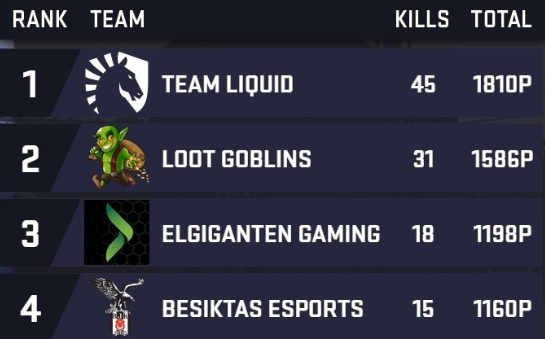 Loot Goblins reigned supreme for the first three games in the European region until Team Liquid rack up the points with 45 total kills and two Chicken Dinners to their name after Jembty joins forces with his twin brother Sambty to create a powerhouse of a team, pushing them to number 1 and giving them a 224 point lead! This means they are not just 1st place in Week 5 but also 1st place on the overall Season 3 leaderboard! Behind Team Liquid we find Loot Goblins at 1586 points, Elgiganten Gaming at 1198 points and Besiktas Esports at 1160 points.

Coming out on top for Game 2 of the EU Alpha Division is @TeamLiquid!#GLL pic.twitter.com/OdKx9B9pjp

— GLL 🎃 (@GlobalLoot) 17 October 2018
We saw some insane grenade plays this week in the European region, the most impressive being a grenade thrown from Besiktas Esports SIMSYOFDOOM where he wipes out the remainder of o1ne in Game 1.

What a nade! @SIMSYOFDOOM with the wipe on @o1ne_gg! 💣#GLL pic.twitter.com/w8MFm5EXGf

— GLL 🎃 (@GlobalLoot) 17 October 2018
BEEP BEEP, GET OUT THE WAY!
In Game 2, Purple Cobras veazyy learnt the hard way that you should always watch your back as Besiktas Esports SIMSYOFDOOM races into the scene to back up his teammates by running over veazyy at high speeds.

Look out! @veazyPUBG gets flattened! 🚗#GLL pic.twitter.com/cXfNM3qNUx

— GLL 🎃 (@GlobalLoot) 17 October 2018
In the bottom portion of the Alpha Division in the European region, we find Season 2 Finalists Team Vitality who unfortunately finished in 16th place with just 3 kills to their name meaning they will move down to Bravo Division for the sixth and final week. Joining Team Vitality is Purple Cobras, Frescos and LegitDefault_.
In the Bravo Division, 2nd place team from the Season 2 Grand Finals Pittsburgh Knights dominate the scoreboard with 627 points and 19 kills to their name, meaning they will play in the Alpha Division for the sixth and final week of Season 3. Joining the Knights is Great People Only, Back From Zharki and Yikes.
---
On the 1st of November we are back with the sixth week of GLL Season 3 starting at 17:00 CEST for CIS followed by Europe at 20:30, and lastly we end it with Americas at 01:00 CEST.
To view the recap of CIS & Turkey click here.
Published 2018-10-18